Tweaking Fall/Winter Meal Plans
This is where I fall of the meal planning (a month at a time) bandwagon...
I LOVE my 5 weeks of Fall/Winter meals coordinated in advance giving me quick inspiration.
But then I get bored, and tweak it based on our grocery budget, leftovers, or things we'd like to try. So this week doesn't fit one of the pre-planned Fall/Winter meal plans.
Instead it's just what we're doing...
Friday:
Saturday:
from LuLu the Baker
from Cooking Outside the Box
Sunday:
ham and cheddar quiche, baked sweet potatoes, blueberry muffins
*the quiche recipe is from a cookbook my sweet friend Hannah gave me when we got married,
it's a recipe of her mom's, baked sweet potatoes speak for themselves -
I like to top them with butter and cinnamon (brown sugar too usually!),
blueberry muffins are from the $1 bag and I'll add some frozen blueberries as well :)
Monday:
leftovers
Tuesday:
spaghetti, garlic bread, peas
*again, easy!
(a jar of marinara sauce, mushrooms, spaghetti noodles, frozen garlic bread, and a can of peas)
Wednesday:
pancakes, scrambled eggs, bacon
Thursday:
leftovers
Friday:
*a couple weeks ago I planned to make this using leftover pesto in the fridge...
only that pesto was bad I realized after spreading it on the pizza crust which was also then wasted!
I was frustrated, but we'll make it work this week instead, with a new jar of pesto :)
lesson learned - use the leftovers in the fridge sooner than later!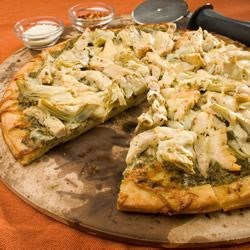 from All Recipes
And now I'm off to work on the veggie chowder!
We'll be at church tonight before we go see a living nativity on our way home,
so we want dinner to be ready when we walk in :)