Why give thanks even now?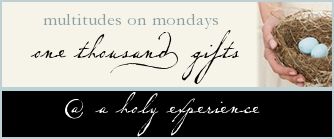 Giving thanks is that: making the canyon of pain into a megaphone to proclaim the ultimate goodness of God when Satan and all the world would sneer at us to recant.
- from Ann Voskamp at A Holy Experience today
In spite of the pain and grief a tragedy causes, praise the Lord that He is near. That His many graces are plentiful even in horrible circumstances around us. In Christ, we give thanks that we have hope for a future when all will be made right, and evil will be fully and finally defeated.
I have much to be thankful for, not to boast in, and not because of anything I've done, but only that God would be glorified for His perfect work in my midst. How humbling that He would consider me but that ultimately Christ would submit to the Father's will out of a perfect love for the people He would redeem...
1222. God's nearness in grief and tragedy, that He knows and loves us
1223. my sweet little girl, tragedy seems to restart thankfulness for the most obvious blessings
1224. teachers who love children every day and seek their best, even in times of horror
1225. Saturday night with friends, celebrating the birthday of a church member
1226. a BIG fruit basket, enough fruit to fill our refrigerator drawer
1227. dinner with friends Sunday night too, wonderful meatloaf and mashed potatoes
1228. a Christmas hymnsing in the most charming little church I've seen lately
1229. a balcony in the church, so that not everyone could see Moriah who never sat still in the pew (though they heard her little voice echo, "What them singing about Mama?")
1230. knowing that there are others serving in similar places, seeking to be faithful as they teach God's Word
1231. the willing response of a new Believer who'd like to learn more
1232. allergy medicine for Moriah that helps her symptoms
1233. Matt's refreshment from a week away from work, in class full time, he loved every minute of it
1234. remembering just now that dinner tonight is in the Crock-Pot!
1235. widows who welcomed us, and would've kept us all day
1236. the sweet joy of community with others
1237. my opportunity to worship in church present with others, our sweet friend wants so badly to be there with us again
1238. time to journal, and a Psalm that gives me words to pray
1239. to be Matt's wife, marriage is a precious gift
1240. a morning in bed with Moriah, donuts, and a children's version of "The Nutcracker"
1241. making sugar cookies to decorate with Matt and Moriah, sprinkles are blissful
1242. planning our Christmas breakfast feast
1243. giving a gift that seemed just right, a Life is Good fishing hat for my dad
1244. finishing projects, and preparing for guests
1245. an alphabet photobook to give Moriah, capturing the last year in my favorite sweet pictures
1246. looking forward to a Christmas celebration with our little friends tomorrow
1247. a break from work, some time at home
1248. God's precise and perfect provision again, when we weren't sure how, He shows us the way He's planned
1249. a free Papa John's pizza
1250. public libraries and good books waiting for me on hold