Our Favorite Christmas cookies
These are our favorite Christmas cookies and the way we discovered each of their recipes.
I hope you'll enjoy them if you find yourself in need of something new this Christmas!
My mom always made Christmas cookies.
I especially enjoyed her peanut butter balls and magic cookie bars.
I like to make each of them still!
The carmel brownies were her recipe as well, though I'm not certain if she ever made them, haha :)
Peanut Butter Balls
1 c margarine (I use butter)
1 1/2 c peanut butter (crunchy or smooth, I prefer smooth)
3 c Rice Krispies cereal
1 lb powdered sugar (that's 3 3/4 c, according to my note from last year!)
1 1/2 pkgs almond bark
Mix melted butter and peanut butter together. Add cereal and powdered sugar. Cool. Roll into balls. Melt almond bark over a double boiler. Dip peanut butter balls into melted almond bark. Cool on waxed paper.
Magic Cookie Bars
1/2 c butter
1 1/2 c graham cracker crumbs
14 oz sweetened condensed milk
6 oz chocolate chips (*or 2 c another recipe calls for!)
3 1/2 c coconut (*or 1 1/3 c the other version uses)
1 c pecans
Melt butter in 9"x13" pan. Press graham cracker crumbs in butter forming a soft crust. Pour sweetened condensed milk over crust. Sprinkle with other ingredients.
Bake at 350 degrees, for 25 minutes. Cool completely and cut into bars.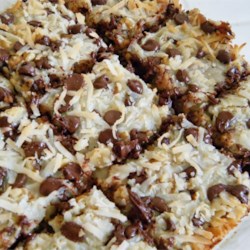 from All Recipes
Carmel Brownies
1 (14oz) pkg carmels
1 c chopped pecans
1 sm can evaporated milk
3/4 c melted butter
1 box German cake mix
1 (16oz) pkg chocolate chips
Combine carmels and 1/3 c milk, microwave to melt. Combine cake mix, 1/3 c milk, pecans, and butter. Mix batter by hand. Press half in 9"x13" greased and floured pan. Bake 6 minutes at 350 degrees. Top with chocolate chips, remaining dough (crumbled) and carmel. Bake 16 minutes more. Cool and cut into bars.
When Matt and I first moved to Louisville I began taking Seminary Wives Institute classes at Southern. My first class, Discipleship, was organized into small groups.
At the end of our semester our instructor invited us to her house for a cookie exchange.
I tasted these Swedish Thumbprint Cookies there and have enjoyed making them since!
Swedish Thumbprint Cookies
*I don't always sift the flour, it doesn't make too much of a difference to me.
I LOVE to use raspberry or strawberry jam, choose your favorite!
Watch as your cookies finish baking that the bottoms don't burn, sometimes it seems to happen quickly to mine.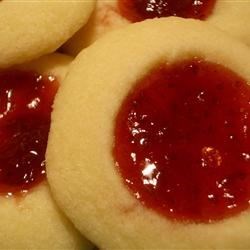 from All Recipes
A few years ago I wanted to try a Martha Stewart cookie recipe that I'd seen on her show.
I immediately loved her Chewy Chocolate Gingerbread cookies,
though they did require many steps as Martha's recipes often do.
While they're not hard (don't be intimidated!) I was even happier to try a
Chocolate Gingerbread recipe my friend Dollie shared with me this year.
While the flavor is similar to Martha's it's a much faster recipe to prepare,
and allows for traditional cut out gingerbread people (which Moriah LOVES this year).
Chewy Chocolate Gingerbread Cookies
*If you're looking for fresh ginger, you might find it in your grocery store's produce section near other herbs, or even the garlic. It looks like a twisted root of sorts. I found it easiest to peel the rough skin with a vegetable peeler and then grate it with a fine grater.
Chocolate Gingerbread
1/2 C (1 stick) unsalted butter, softened
1/2 C packed light brown sugar
1/4 C granulated sugar
1 T shortening
4 oz semisweet chocolate, melted and cooled
2 T molasses
1 egg
2 1/4 C all-purpose flour
3 T unsweetened cocoa powder
2 1/2 t ground ginger
1/2 t baking soda
1/2 t ground cinnamon
1/8 t salt
1/8 t finely ground pepper
Prepared icing (optional)
1. Beat butter, sugars and shortening in large bowl with electric mixer at medium speed until creamy. Add chocolate; beat until blended. Add molasses and egg; beat until well blended. Combine flour, cocoa, ginger, baking soda, cinnamon, salt and pepper in medium bowl. Gradually add flour mixture to butter mixture, beating until well blended. Divide dough in half. Wrap each half in plastic wrap; refrigerate at least 1 hour.
2. Preheat oven to 350. Roll out one dough half between plastic wrap until about 1/4 inch thick. Cut dough with moose or gingerbread cookie cutters, or whatever other shape fits your mood that day; place cutouts on ungreased cookie sheets. Refrigerate at least 15 minutes. Repeat with remaining dough.
*I refrigerated mine overnight to use later and found it pretty firm... once I set it out for a few minutes it rolled more easily and baked perfectly.
3. Bake 8 to 10 minutes or until cookies have puffed slightly and have small cracks on surfaces. Cool 5 minutes on cookie sheets. Remove to wire racks to cool completely. Decorate cooled cookies with icing, if desired.
I also like Pumpkin Chocolate Chip cookies, that my friend Meghan shared with me once.
I've made them often since, and added them to our Christmas cookie tray one year as well.
Pumpkin Chocolate Chip Cookies
"wet ingredients":
1 can pumpkin
1 stick butter, softened
1 tsp vanilla
1 c sugar
1 egg
"dry ingredients":
2 c flour
1 tsp baking soda
1/4 tsp salt
1/2 tsp cloves
1/2 tsp cinnamon
1/2 tsp nutmeg
1 bag chocolate chips (the mini-chips work well)
Mix dry ingredients. Separately mix wet ingredients by hand until creamy. Add dry ingredients to wet and mix well. Stir in chocolate chips. Bake at 375 degrees for 12-14 minutes.
In college I served as a RA (resident assistant) in my dorm.
We were required to adopt a hall sponsor (faculty member) and coordinate activities with them.
One year our hall sponsor, an elementary education professor,
invited us to her home for a finals week study break complete with cookies.
We enjoyed these Molasses Cookies there and she happily shared her recipe!
Molasses Sugar Cookies
3/4 c butter
1 c sugar
1 egg
1 tsp vanilla
1/4 c molasses
2 1/4 c flour
1 tsp salt
2 tsp baking soda
1 tsp cinnamon
3/4 tsp ginger
1/2 tsp ground cloves
Mix ingredients. Roll into balls. Roll each ball into additional sugar to coat.
Bake at 350 degrees 8-10 minutes.
Finally, I've never made a sugar cookie that seems just right to me.
Mine usually become a bit harder than I'd like.
This year I sampled cookies made by my little friend Mr. S. with his family and they were amazing! Naturally, the recipe is a good one if it's been a family favorite of theirs for at least 30 years.
So glad it's not a family secret and I can add it to my list of treats at our house too :)
Cut Out Sugar Cookies
3 c flour
1 c sugar
1 1/2 tsp baking powder
3 TBSP evaporated (or regular) milk
1/2 tsp salt
1 egg
1 c butter
1 tsp vanilla
Cream butter and sugar. Add vanilla and milk. Add already combined dry ingredients. ROll dough in ball, wrap in Saran wrap and refrigerate. Roll dought out on floured surface. Cut with cookie cutters. Bake at 400 degrees 5-8 minutes depending on thickness. Cooled cookies may be iced and decorated as desired.
icing:
1/2 c butter
1/2 box powdered sugar
dab milk
dab vanilla
After LOVING this Pinterest recipe for S'More Cookie Bars
I thought it would also be a yummy addition to any cookie tray.
S'More Cookie Bars
from Lovin' from the Oven
When I taught Kindergarten for my first full year I worked with
wonderful experienced teachers who were so kind!
At Christmas one of my co-workers made this party mix, and I just came across
the recipe again written in perfect kindergarten teacher printing :)
It was yummy and festive!
White Chocolate Party Mix
1 pkg (10oz) mini pretzels
5 c Cheerios
5 c corn Chex
2 c salted peanuts
1 lb pkg m&m's (she used red and green)
2 pkg (12 oz ea) vanilla chips (*these were hard for me to find in the past)
2 TBSP vegetable oil
Microwave vanilla chips and oil, 2 minutes on medium-high power. Stir. Microwave on high 10 seconds. Stir until smooth. Pour over other ingredients already combined. Mix well. Spread on waxed paper to cool. Store in air tight containers.
from Taste of Home
I also need to ask Matt's mom for her Martha Washington candy recipe.
They're a holiday favorite of hers, that I've enjoyed since Matt and I were dating :)
They're also a candy dipped in chocolate with a coconut center. Yum!
As a general disclaimer, I don't imagine I'd ever make them all in one year unless there was a great occassion for so many treats :) These are my favorites though, so I'm glad to have them all in one place to reference and mix and match in the future! Enjoy holiday baking with your favorite cookies, and leave a comment with any recipes you think I might like.
Of course there are others favorite holiday treats. I just saw these two lists of ideas today...
we've enjoyed various "healthified" recipes of theirs, so I'm sure they would be worth a try!
a Pinterest find!