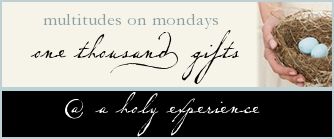 1201. a long weekend with today off
1202. extra time to play with my sweet girl
they were climbing (with help!) here,
not bouncing at the moment
1203. all sorts of fun with these girls at the "bouncy"!
1204. watching Moriah eat her little pb&j sandwich like a big girl, she doesn't need the pieces cut (and maybe hasn't for awhile?!)
buy a beautiful tree on campus at the
Getty's Irish Christmas concert
1205. the Advent season, anticipating Christ who will come again
they were all picnic-ing for Cubby's birthday :)
1206. making a birthday card for Cubby the teddy bear
1207. the Lord increasing my love and service toward Matt as I help with practical things in our home
1208. a few gifts wrapped, we love our family members more than our Christmas gifts may show
her hair is untamable without a bow!
1209. opening a "new" book to read with Moriah each day of Advent - they're "new" to her each year though not brand new!
such a funny expression
1210. a family day at a local nature center
1211. a gingerbread house party to look forward to
1212. friends who welcomed me when we first arrived in Louisville and have stayed in touch 4 years later
1213. Christmas music, "Away in the Manger" sung with Moriah
1214. a "one horse open sleigh" on our couch, pulled by Moriah's horse "Cocoa" as we listen to Jingle Bells
1215. a living nativity to visit
1216. childcare workers at church who serve children so families can worship with a bit more focus
1217. a little girl who wants to help
1218. Christmas cards to send
1219. the Lord's sovereign work in the details of life for those of us who were far from Him on our own
1220. a baptism, the first in years for our small rural church, cause for praising the Lord and being awed by His work
1221. Moriah's love of lists with names... "please draw Moriah P****, Matthew P****, Laura P****" and it goes on and on with every family and friend we have!