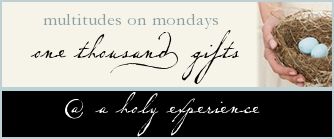 732. a bit of quiet in the middle of a day with little ones
733. library story times
734. dressing like cows for free supper
735. an abundant harvest shared... this week our church members generously gave us 12 ears of corn, quite a few zucchini, summer squash, 2 onions, 4 cucumbers, and 3 green peppers
736. time for cooking and preserving the abudance
the zucchini bread was unbaked, a zucchini casserole, zucchini tots,
vegetables to be frozen for sandwiches, and corn on the cob
737. sharing with others
738. babysitting swaps with a dear friend, and a date night for us
739. encouragement in the Lord in all seasons, He is near
740. reading something a bit different and learning from it
741. rocking with my big girl who just wasn't feeling so well
742. rain
743. summer flowers still blooming in our pots
744. a little time off coming soon
745. free laundry while I work
746. time alone to plan and prepare, my husband blesses me with his care
747. finding really helpful bargains on lovely, modest, simple clothes - I could build my wardrobe from Land's End (especially now that I discovered the Sear's Outlet store in town!)
748. Matt's bike repaired, a hobby continued for him
749. another tea party here with Moriah's friends
this was a tea with plenty of sweet treats!
750. encouragement from our congregation as Matt leads others to remain faithful to all of Scripture, in our local church association
751. sharing ideas with others
752. early bedtimes to ward off allergies coming with weather changes
753. helping Matt in preaching preparations with a bit of organization
754. Matt's God centered vision for our life ten years from now, articulated in a recent paper for class
755. fresh summer foods
756. Moriah's growing vocabulary, this weekend Daddy taught her about "surgery" as she plays doctor with a toy knife from her kitchen... oh my!
757. neighborliness, sharing nutmeg for zucchini bread
758. library books
759. a good dentist visit with an onlooking little girl who was mesmerized
760. sticker rewards as a potty training boost, all the motivation she needed!
761. a little girl who LOVES pink toes
she also likes to notice the toes of strangers in public restrooms :)
762. a huge hug from my sweet helper while I was scrubbing the tub, her affection made the job much more pleasant
763.
Believers who read their Bibles and believe the Word to be true and "plain"
764. Matt's example to me of growing faith as he seeks the Lord and is taught by Him
765. sandbox play time