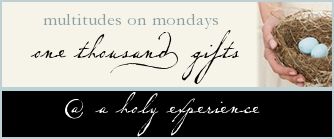 "to accept his lot and rejoice in his toil—this is
the gift of God"
~Ecclesiastes 5:17
1296. for an abundance to share
1297. lessons from Ecclesiastes (listen to
sermons from Sojourn
here)
1298. singing songs of truth
1299. the Holy Spirit's work to encourage, affirm, and comfort
1300. opportunities for full time ministry post-graduation, pray with us!
1301. seeing the Lord's work to change us and make us ready
1302. a brave girl at her first dentist appointment
1303. kind dental hygienists who patiently played and cleaned little teeth
1304. dinner with friends
1305. fun multiplied when extra little ones join in
1306. a reliable mechanic who's honest
1307. a cooking afternoon
1308. Matt who loves eating my muffins (a dozen gone this weekend!)
1309. an attempt at baking bread in my new Dutch oven
1310. a picnic in Moriah's tent
1311. a husband who kindly washes dishes after guests visit (while I give our little one her bath)
1312. financial provision, always
1313. the Lord bringing us and sustaining us each semester, this is the last one for Seminary
1314. wise words in good books (see my
recent reading
here)
1315. snuggles with a little girl
1316. reading and finding comfy spots for three little ones on one lap
1317. safe driving and God's protection on a day with slippery roads
1318. mild weather today
1319. an upcoming trip to celebrate our marriage and upcoming graduation while we rest and relax
1320. a grandma coming to stay
1321. Little Golden Books, timeless stories, "Baby Dear" is our current favorite
1322. prayers on our behalf
1323. bird watching, especially when we can enjoy a pileated woodpecker and a kingfisher!
1324. pursuing more time in nature, knowing that as I see God's work I'll marvel at Him
1325. a husband who leads with love and gentleness