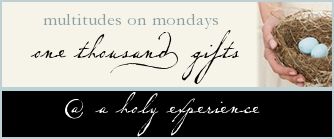 527. a large round of Amish cheese, given by a generous church member
528. an impromptu dinner with friends
529. a husband who serves me
530. relaxing in the sun with friends for the afternoon and evening
531. friends who've kept in touch even when paths changed
532. a scholarship awarded to Matt, helping to pay for about half of his remaining Seminary tuition during the coming school year
533. honest employers who unexpectedly reimbursed us for more taxes we paid
534. anticipating summer
535. health
536. a potty trained girl (she was in the process below)
537. church members who don't mind us sneaking by to go potty - again
538. Moriah's echo of Matt's preaching as she said "Praise Him!" soon after Matt exhorted us to do the same (we're not in a charismatic church at all though this comment might suggest so!)
539. a garage sale to come
540. a thoughtful Mother's Day celebration
541. finding a dress that fits and flatters while being modest
542. new independence from our sweet girl as we often hear "Moriah do it!"
543. listening to Moriah say "Jesus loves Moriah so much"
544. an end of pre-school Spring Sing to enjoy as our little friend Mr. S. sung and sat sometimes
545. an extended Memorial Day weekend off
546. used bookstores
547. welcoming others into our home
548. brownies baking
549. Crock Pots
550. poppies blooming along a country road
551. a rock wall well maintained
552. hearing an aged saint share simply that "Jesus changes us, He just does"
553. an Amish family with a little baby on their way to church in a horse pulled by buggy
554. a special breakfast with mommy at the Farmer's Market - a waffle topped with farm fresh strawberries, syrup, and whipped cream, alongside scrambled eggs and cheese, with a mint/lemon tea to drink - a treat indeed
555. container gardening with our sweet girl